STAFFAN FOGELMARK

Emeritus Professor of Greek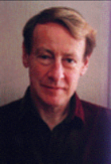 Academic curriculum
Academic Degrees
Lund University, Sweden
B.A. 1964
M.A. 1968
PhD 1972
Academic Positions
Lund University, Sweden
Reader in Greek, 1972-85
Lecturer in Greek, 1985-96
University of Gothenburg
Professor of Greek, 1997-2004
International Appointments/Honorary Fellowships
Harvard University, USA, Fellow of The Center for Hellenic Studies, Washington, D.C. (1973/74).
University of Edinburgh, UK, Charles Gordon Mackay Lecturer (1979).
Lund University, The New Society of Letters (1980).
Research Scholarship
Swedish Council for Research in the Humanities and Social Sciences (1991-93).
Public Lectures
Public lectures at universities in Great Britain and the USA.
Areas of research
Greek archaic epic and lyric poetry
Greek rhetoric
Hellenistic poetry
Renaissance Greek scholarship
Renaissance Greek printing
Medieval and Renaissance bibliopegy
Analytical bibliography
Publications
Articles
"Two cases of Adynaton: Ag. 612 and Theodoridas AP. XIII.21". Harvard Studies in Classical Philology, 79 (1975), 149-63.
"Pindaric Bibliography". Eranos, 74 (1976), 69-102.
"Pindar, Nemean, 7, 50-52", L'Antiquité Classique, 45 (1976), 121-32.
Review of: Jesper Svenbro, La parole et le marbre: Aux origines de la poétique grecque. Lund: Studentlitteratur, 1976]. Gnomon, 50 (1977), 113-24.
"A Troublesome Antithesis: Lysias 12.88". Harvard Studies in Classical Philology, 83 (1979), 109-41.
"καὶ κείνοις: Pindar, Nemean 5.22". [In:] Arktouros: Hellenic Studies Presented to Bernard M. W. Knox on the Occasion of his 65th Birthday, ed. by Glen W. Bowersock et al., 71-80. Berlin: de Gruyter, 1979.
"Lysias 12.37: An Unexplained Case of κακοφωνία". Hermes, 109 (1981), 294-300.
"Hobson's Magnum Opus: Wary walking Recommended" [Review of: Anthony Hobson, Humanists and Bookbinders: The Origins and Diffusion of the Humanistic Bookbinding 1459-1559. Cambridge: CUP, 1989]. Text: Swedish Journal of Bibliography, Uppsala, 4:4 (1991), 174-205.
"A Correction to Adams P 1219-1221 (Pindar)" (Bibliographical Notes and Queries: Note 555), The Book Collector, 44 (1995), 112-13.
"A Mistaken Attribution" (Bibliographical Notes and Queries: Note 574), The Book Collector, 51 (2002) 130-31.
"Four Epigrams in the Greek Anthology: AP 7.365, 7, 651, 6.276 and 7.79", Eranos 100 (2002), 23-37.
"To Bee or Not To Bee? Antipater AP 7.34: A Mistaken Interpretation", Eranos 100 (2002), 128-136.
"The Anonymous Rome 1522 Chrysoloras: A Newly Discovered Greek Press", Papers of the Bibliographical Society of America, 97 (2003), 5-42.
"In my End is my Beginning: Verbal Echoes in Pindar's 9th Pythian", Studia Palaeophilologica (Festschrift Gerald M. Browne), ed. Stephen M. Bay. Champaign, IL: Stipes, 2004, 71-78.
"The 1515 Kallierges Pindar: A First Report", Συγχάρματα (Syncharmata) edd. O. Strid, D. Searby & T. Hållander, Acta Universitatis Upsaliensis, Studia Graeca Upsaliensia 21 (Festschrift Kindstrand), Uppsala 2006, 37-48.
"Pindar, Pythian 8.95-6: An Unrecognized Problem", Hermes 136 (2008), 383-90.
"Pindaros på svenska: En seriös granskning av Ingvar Björkesons översättning", Text: Svensk Tidskrift för Bibliografi, 7:2, Uppsala (2009), 63-132.
"Pindaros, Olympia 13.51", Humanitas: Festskrift till Arne Jönsson, edd. A.M.H. Nilsson, A. Damtoft Poulsen & J. Svensson, Makadam Förlag, Göteborg & Stockholm 2017, 37-51.
Encyclopedias
Nationalencyklopedin, Supplement 1 (2000), 584.
(See also Contemporary Authors, Gale Research Inc., vol. 139 [1993], 136-37.)
Contact
Preferred contact by email: staffan@fogelmark.org